From a very pragmatic point of view, getting the right data at the right time is at the heart of good project portfolio management. If the right data is not available for decision makers to use, the issue will be mediocre results at best. Portfolio management is about selecting the right projects, optimizing the portfolio to deliver maximum benefit, protecting portfolio value to ensure that that value is delivered, and improving portfolio value by maturing organizational processes. At every step, data is required. The quality and quantity of data correlates to portfolio maturity. Some less mature organizations will collect insufficient data which leads to sub-optimal decisions. Other organizations may try to collect too much data before they are ready to utilize it and can do more harm than good by burning out employees with burdensome processes. Mature organizations will have the discipline and rigor to collect the right amount of quality data.
Therefore, understanding the data needed upfront is a success factor for portfolio management. There are several types of portfolio data:
Strategic data
Resource data
Schedule data (forecasts and actuals)
Performance data
Financial data (estimates and actuals)
Time tracking
Request data
Etc.
Senior management bears the responsibility for identifying the right data to be used in the portfolio management process. In addition, senior leadership needs to drive the accountability for collecting the right data. Without active engagement and feedback from senior management, data quality can suffer.
Organizational processes are very important for ensuring that the right data is collected. Selecting the right projects requires that good data is collected about each candidate project. Such data must be relevant to the senior management team that makes portfolio decisions. Data that is not used for decision making or information sharing is considered a waste. Collecting data comes at a cost, and organizations need to put the right processes in place in order to collect good data. From this angle, portfolio management processes are about collecting a sufficient amount of the right data. Without good standards and processes, important portfolio data will be collected inconsistently resulting in confusion and possible error.
Portfolio tools have a very important place in the portfolio management ecosystem, but only after leadership has identified what is required and lean processes have been created to facilitate data collection. Portfolio systems store and transform project and portfolio data for general consumption (aka reporting and analytics). For less mature organizations with fewer data requirements, simple portfolio systems such as Excel and Sharepoint can be used in the portfolio process. Maturing organizations should select portfolio software that meets the needs of its data requirements.
Lastly, senior leadership needs to use the data in the system for making better portfolio decisions. Strong portfolio systems will generate the reports and analytics necessary to support better investment decisions. Good data is the fuel that makes the portfolio engine run! Without good 'fuel', senior management will be unable to drive the organization toward its strategic goals. The data perspective of portfolio management begins and ends with senior leadership.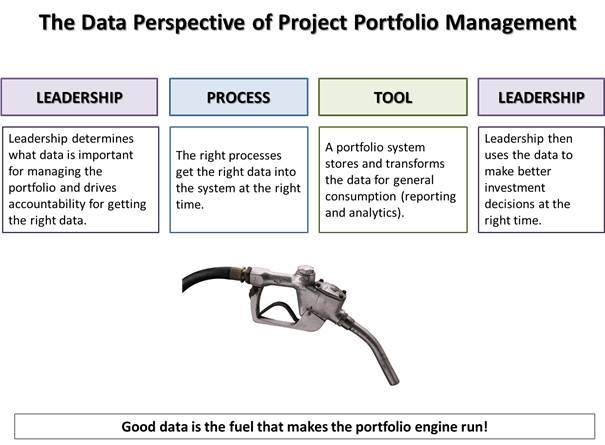 Latest posts by Tim Washington
(see all)