Project pipeline management is an important component of project portfolio management (PPM) because it encompasses the work needed to "select the right projects". Pipeline management involves steps to ensure that an adequate number of project proposals are generated, evaluated, and screened out at various stages of the intake process that meet strategic objectives. There are three major sub-components to pipeline management: ideation, work intake processes, and phase-gate reviews illustrated in the figure below.
Ideation – The Starting Point of Pipeline Management
Ideation is the process by which new project ideas are generated. This is slightly different from the work in-take process by which project requests are formally brought forward to a governance board. Ideation is important for collecting the best ideas from the organization, for collecting a sufficient number of project proposals to generate higher quality projects, and to maintain a healthy organization by engaging employees to submit their ideas.
Opportunity Management – The Backlog of the Project Pipeline
Opportunity management complements ideation and further strengthens the project selection process. Some ideas may be great, but for one reason or another, the timing is not right or some other constraint makes the execution of the idea difficult or impossible. For this reason, organizations should establish a "parking lot" of good ideas waiting to enter the project pipeline. This parking lot is really a collection of all of the opportunities waiting to be captured.  The processes for managing opportunities are similar to the processes for managing risks except that opportunities are future events that could produce positive outcomes for the organization. Opportunities often fall into the "should do" or "could do" categories, but enable organizations to achieve more or perform better than planned. Without an opportunity management process, organizations risk losing visibility of potentially beneficial future projects.
Work Intake – The Entry Point of Project Pipeline Management
The work intake process refers to the steps of developing a project proposal and bringing it to the governance board for a go/no-go decision. This process works in conjunction with both ideation and phase-gate, but can also be a standalone process. When used with ideation and phase-gate, the work in-take process helps bridge these other two processes together.  The work in-take process is important so that all project proposals are created in a consistent manner with common tools and processes. The unintended consequences of not having a work in-take process include organizational confusion, time delays, and quality erosion.
Phase-Gates
Phase-gates (also known as Stage-Gate™) are a critical component of project pipeline management. A winning portfolio must contain winning projects, therefore the portfolio management team (PMT) must be able to discriminate between good projects and great projects. The decision gate process enables the PMT to review these projects based on preselected strategic criteria at the gate reviews of the decision gate process. At each of those gates, important project information is provided to the Portfolio Management Team to make a go/no-go decision related to the project. Without this mechanism, unnecessary or poorly planned projects can enter the portfolio and bog down the work load of the organization, hampering the benefits realized from truly important and strategic projects.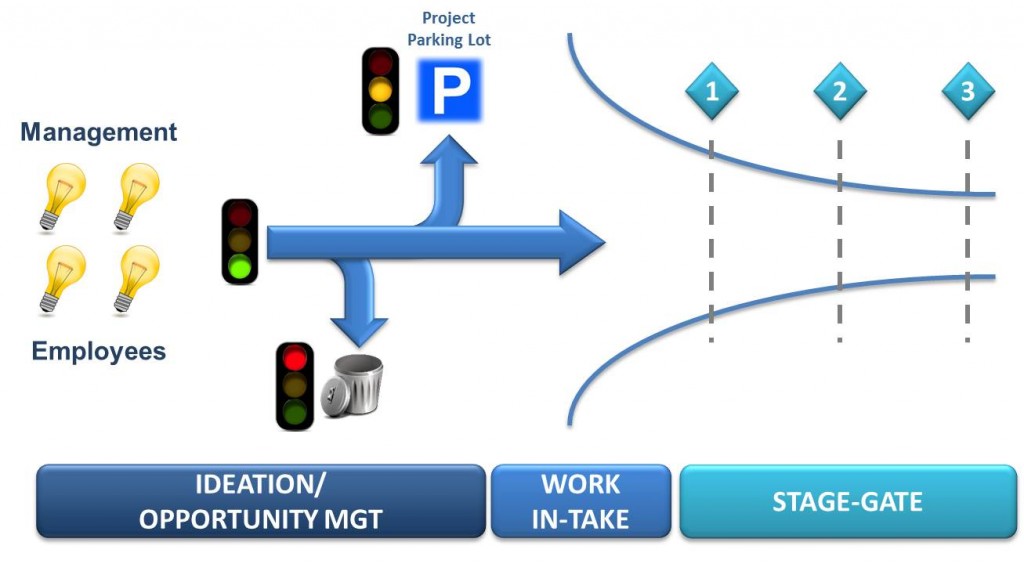 Pipeline Management and Portfolio Maturity
Pipeline management supports portfolio definition (as seen by ideation, opportunity management, work intake, and Stage-Gate) but also portfolio optimization in relation to project sequencing and project dependencies. Pipeline management is one component of healthy portfolio maturity and you should regularly assess the maturity of your portfolio management processes.
Portfolio Roadmaps
A common method for getting visibility of the active work in your pipeline is a portfolio roadmap. This tool will highlight when major initiatives start and stop and can further support work intake.

Latest posts by Tim Washington
(see all)