In part 1 of the portfolio management V-model we looked at the left side of V (process and data) that drives better decision making. In part 2 we will look at the right side of the V (leadership and governance) and then tie everything together. Let's start with governance.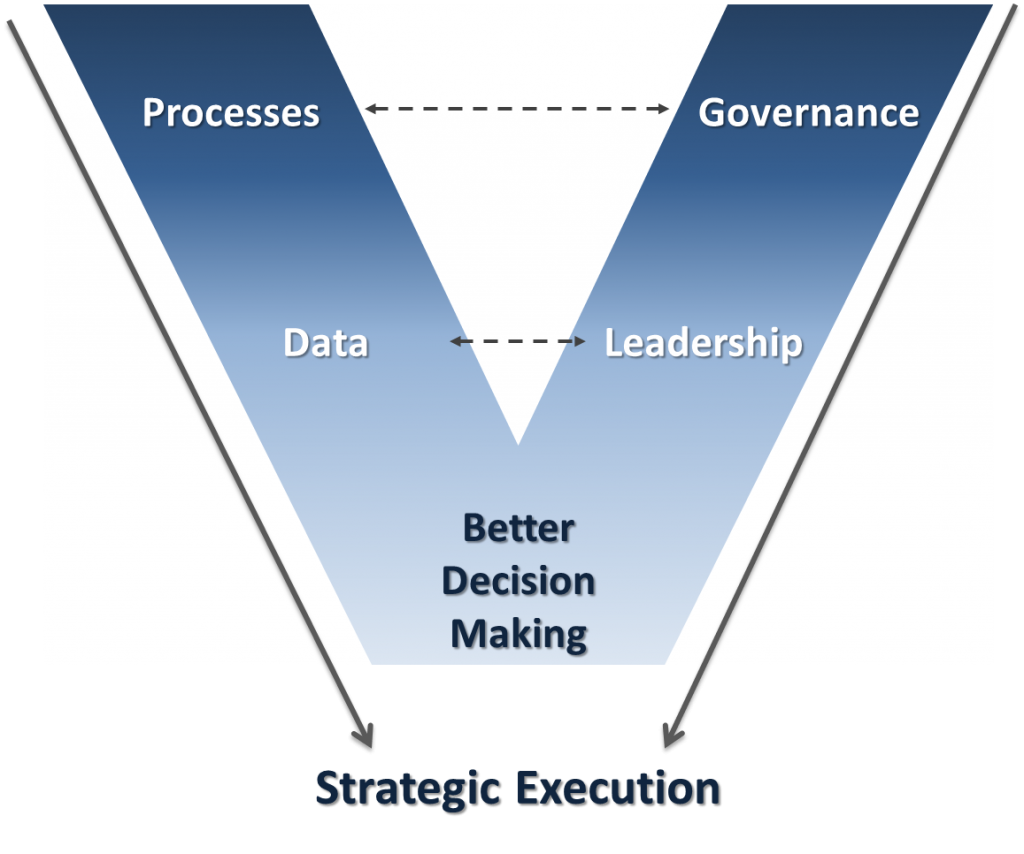 Establishing portfolio management governance is a critical component for successful execution of PPM. Peter Weill and Jeanne Ross, authors of IT Governance, define governance as "specifying the decision rights and accountability framework to encourage desirable behavior in using IT. Governance determines who makes the decisions. Management is the process of making and implementing the decisions." They make the point that IT governance is the most important factor in generating business value from IT and that good governance design allows enterprises to deliver superior results on their IT investments.
Governance is the foundation for all of the other portfolio mechanics, and without it, PPM doesn't work. All benefits of project portfolio management hinge on the execution of portfolio governance. According to Howard A. Rubin, former executive vice president at Meta Group, "a good governance structure is central to making [PPM] work." Furthermore, "Portfolio management without governance is an empty concept". These quotes highlight the need for a well-defined and properly structured governance in order to manage the project portfolio.
Leadership is a critical component that brings the governance framework and the visionand goals of the organization together. Good leaders will develop the right goals and strategies for the organization. At the same time, good leaders will also develop the necessary governance infrastructure to make good decisions that will drive the execution of the strategy they have put in place. Moreover, good leaders will hold management accountable for following the governance process and will take ownership for achieving the organizational goals. In sum, leadership drives accountability.
Good governance processes enable better decision making but do not ensure it. The real decision makers on the portfolio governance board should be strong strategic leaders who make the right decisions at the right time. Portfolio management requires prioritization and trade-off decisions, which can be difficult tasks amidst strong politics and/or dynamic environments. True leaders will not compromise and accept mediocre results, even when that is the easiest path to take. Good strategic leaders will make difficult decisions (aka "the right decisions") in the face of difficult circumstances. This is why leadership is needed in addition to governance for making better strategic decisions.
We can connect all of the components together now and see how they fit together. Good decision making requires having the right data at the right time, and it also requires strong leadership to utilize that data for making the best decision possible at any point in time. In order to have good data, organizational processes are required to collect the data and maintain it. Governance processes are also needed to ensure that the governance board operates efficiently and effectively. Even if there are good governance processes and place, and the roles and responsibilities are well understood, real leadership is needed to make difficult decisions that best utilize resources and accomplish company goals (even when not popular among all stakeholders). These decisions relate to the projects and programs in the portfolio that will execute strategy and meet company objectives. The simple portfolio management V-model helps tie together four critical components of PPM that lead to better decision making and result in greater strategic execution.

Latest posts by Tim Washington
(see all)